Volume 5 | Issue 5
Putting it in context
A message from CDC Integrated Services, LLC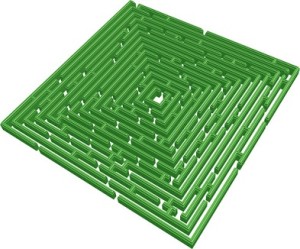 Start at the Beginning
The majority of people stumble when trying to talk about ethics.  Many are confused about the subject because they are uncertain about what is acceptable and what is not.  They are confused about where to begin any discussion of ethics or integrity. Because they don't know how to start this kind of conversation, they choose not to engage others on this subject.
The ingrained reluctance to talk about this subject in the ordinary course of one's work stems from the belief it can only discuss it within the context of the policies and procedures for which the issue applies.  A further perception exists that any conversation on this subject outside of the policies and procedures opens one up to potential accusations of being judgmental and engaging in criticism about other people's work.
Conversations about behaviors often fall short or veer off into unproductive areas because the standards of conduct are unclear or unknown.  For many employees, the only understanding they have about ethics is what they are required to look at when directed to do so by their management.
Leaders and managers contribute to this confusion by the approach they take when discussing the subject of ethics.  More often than not this matter is addressed to employees through a series of directives.  Employees are asked at specific times to examine the corporate policy; to read the procedures; to take an in-house test, and to other similar instructions. Given this mindset, the workplace remains fertile ground for errors and mistakes.
Silence is the breeding ground for ethical failures. The answer is to encourage all employees to ask questions about the company's code of conduct (standards of behavior). Managers and supervisors should ask their compliance officer to provide sample case studies for regular discussion at the department and shift levels.
Many themes fall into two broad categories. The first category describes those behaviors and actions not permitted.  Everyone understands such absolutes as not harming someone; not lying about someone; not stealing from someone.  These prohibitions create a clear understanding that specific behaviors are not acceptable.
The second category describes behaviors that are acceptable and necessary as minimum standards.  These are foundational behaviors such as the obligation to treat everyone fairly, to comply with established processes and procedures, to provide truthful information.  These necessary standards of conduct create the foundation for a discipline to be practiced as explicitly and consistently as any other discipline.
Food for Thought: Though no one can go back and make a brand new start, anyone can start from now and make a brand new ending. (Attributed to Carl Bard)
To those of you who continue to read my letter, I again thank you for your courtesy, and if you in the Houston area, you are welcome to join me for breakfast next Wednesday, the 30th, at the Corner Bakery Café at the corner of I-10 and Echo Lane. We meet each Wednesday, and the subject for the week will be AI-The Future of Personal Finance. Please visit http://www.servicesca.org/crossroads.htm for more details.
We at CDCI encourage you to contact us if you have any questions.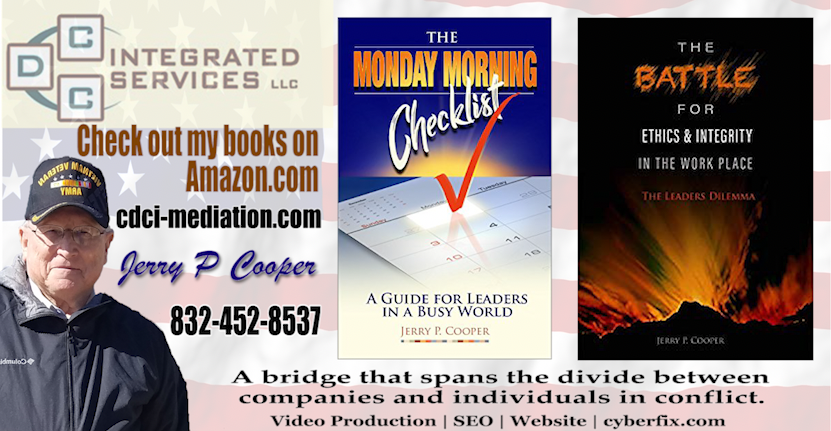 Houston, Texas 77042
(832)-452-8537
(281)-861-4947
jerry@cdci-mediation.com