Volume 6 | Issue 12
Putting it in context
A message from CDC Integrated Services, LLC
Finding the Layers beneath Layers
Can openers are found pretty much everywhere. We use them every day to open cans of food and rarely are we surprised by what we find inside.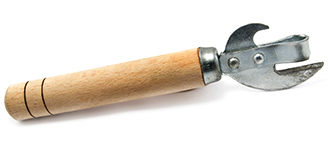 We open the can and find what we expect to find. Yet, sometimes the open can provides an unexpected and unpleasant surprise.
All of us know that certain cans have to be opened and we know we won't like what we find inside. You and I read stories about ethical and integrity failures among the world's largest companies more often than one might think. The number of cases is growing each year, as is the drama surrounding the details once they are released. Just in the last few days the U.S. reached a settlement with Sweden's telecom giant Ericsson Telecom.
Ericsson reached an agreement with U.S. authorities in a case related to behaviors by Ericsson employees going back to the early 2000's. The settlement was in two parts where damages in an amount just over $500 Million were assessed against the telecom company for bribery, falsifying records, and other misdeeds prohibited by laws such as the Foreign Corrupt Practices Act. In addition, another $500 Million was extracted through "disgorgement".
Assessing damages for wrongdoing is a well-established legal doctrine, and though the amount agreed as representative of the damages caused, is surprisingly large; it is hard to argue against given the length of time the unethical practices existed.
Forcing the company to cough up an equal amount as punishment raises legal questions that I will leave to those more qualified to talk about. What I can say is that a line can easily be crossed between what is necessary to correct the misdeeds of individuals and companies, and what is, for all intents and purposes, extortion. As the details of this settlement become more widely known, the astonishing Billion dollar settlement may be justified.
Yet, I cannot but conclude that you do one or the other but not both. One either can make the case for damages consistent with the laws that were broken, or you are able to determine the specific amounts illegally gained and by force of law demand the individual or company return those ill-gotten gains.
It is all too easy to forget that just as companies can behave in an unethical manner, so can those acting as agents of the government. Is disgorgement on top of damages unethical? I think it is a question that needs discussing. I intend to follow this story in the coming months as I am greatly disquieted by the two separate assessments (for lack of a better word), and what it portends with regard to the future treatment of compliance programs.
These dramatic events are easy to see and follow once they become known. The ethics failures that lie at the heart of this story are easy to understand. What is much more difficult to see is the impact of unethical conduct by government bureaucrats in the issuing of and the application of regulations.
Many times small business owners are the ones that suffer most from regulatory overreach, and often they don't learn about these pending consequences in time to mitigate the adverse impacts.  I recently read an article about something called the Ultimate Beneficial Ownership (UBO) Registry, and a movement in Congress to make participation in this registry compulsory.
Apparently the fact I created my LLC through the State of Texas and filled out all of the necessary forms is no longer enough. Whatever I provided to the state about my company is being looked on as insufficient, and now I may be tasked with doing something else.
Unbeknownst to me this is an ongoing debate that's been around for a while, driven by the fact that bad guys create shell companies to hide what they are doing. On its face the idea of identifying who benefits from the operations of a shady company is a good thing. Law enforcement agencies in the U.S. and elsewhere have a pressing need for more tools to ferret out corruption.
What sounds good in theory or in a carefully worded press release by some mid-level staffer in a government agency is one thing, drilling down into the details is something else. When you do drill down, you find that the burden for making this process work will fall on the owners of the companies required to input their data into the registry.
It will be the business owner that will have to maintain the accuracy of the data, and the owner will suffer legal consequences if he doesn't participate. Once again, in order for law enforcement to fight crime, the law abiding person has to prove he is not the law breaker. Yet, somehow the irony is lost on those writing the regulations.
Should this useless exercise come to pass, it will not drive anyone out of business, but it will represent a layer of costs that provides no value to the business owner, and will create increased risk across areas not yet defined.
On a more pleasant note, I wrote in my post last week that larger businesses don't have many opportunities to interact with the owners and managers of small businesses. I also noted that opportunities do exist where leaders of large and small companies can meet and understand the many things they have in common.
One of those opportunities is provided each year by the Services Cooperative Association. SCA is a co-operative comprised of business owners with a mission and a purpose that hasn't varied in 36 years. Through its processes, it assists business owners in Market Expansion, Business Development, Entrepreneurial and Intrapreneurial Education and Professional Growth. It is a set of processes that has led numerous companies to succeed where they might otherwise have failed.
Each year the Services Cooperative Association hosts its Annual Economic Forecast, and on Wednesday, January 8, 2020 the association will host its 37th Economic Forecast. The keynote speaker kicking off SCA's annual event is Mr. Jim McIngvale of Gallery Furniture. In addition, each year the City Controller, or his or her representative, presents the city's view of the Houston economy, and Houston Community College provides an overview for the State of Texas.
Mr. Chris Brown, Controller for the city of Houston, has once again accepted the invitation to be SCA's keynote speaker at this event, and Professor of Economics, Ms. Sophie Haci accepted on behalf of HCC.
As Chairman of the Board for the Services Cooperative Association, I cordially invite those of you reading this who live in the greater Houston Area to mark your calendars and take the time to attend this annual event, meet other small business owners, and gain a fresh perspective on the many issues that impact our fellow Houstonians.
I invite you to visit the website here, and learn more about the event, and while there take a moment to check out some of the other resources available through SCA.
Food for Thought:  "The good which every man, who follows after virtue, desires for himself he will also desire for other men…" (Baruch Spinoza)
Houston, Texas 77042
(832)-452-8537
(281)-861-4947
jerry@cdci-mediation.com